2018 Auxin Herbicides – Best Management Practices Training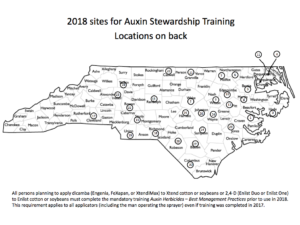 You are undoubtedly aware of the issues with dicamba off-target deposition across the country last year. Because of those issues, the EPA recently revised labels for dicamba products registered for application to Xtend soybean and XtendFlex cotton. One of many new requirements is mandatory training for all applicators prior to use in 2018 (even if trained in 2017). The Federal labels for 2,4-D products registered for Enlist crops (Enlist One, Enlist Duo) do not have a training requirement. However, NC 24(c) SLN labels for Enlist One and Enlist Duo will specify mandatory training.
Attached is the schedule for 2018 training. We selected locations on the basis of acreage and meeting facilities, and we tried to spread them out as much as possible.
NCDA will have personnel at each meeting to swipe pesticide licenses. That is how participation will be recorded. There will be recertification credit in categories N, O, D, and X (not sure if it is 1 or 2 hours). NCDA is handling all of this; you do not need to request credit or do any paperwork.
Several states are offering online training only. We conducted a survey at our 2017 meetings, and one question was preference for online vs face-to-face training. There was an overwhelming preference (95%) to have a real person present the training. So, NC will not offer online training.
Several states offering in-person training have less than 10 meetings per state scheduled. We have 30 meetings. Anyone calling me in April saying he couldn't get to one of the 30 meetings will get no sympathy. The last boat sails 
March 12
.
Was the information on this page helpful?
This page can also be accessed from:
go.ncsu.edu/readext?503066