Hay, Straw, and Pine Needle Shipping Quarantine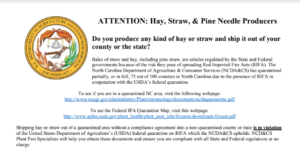 For anyone selling Hay, Straw, or Pine Needles from Orange County, please check this North Carolina Department of Agriculture & Consumer Services quarantine press release first!
One Half of Orange County is under quarantine for Red Imported Fire Ants. Check with the link above before purchasing or selling Hay, Straw or Pine Needles from sources off your property in order to prevent moving Fire Ants to other parts of the country.