Food Safety Manager Certification Course – NC Safe Plates

A Training Program for Food Safety Manager Certification
Class: August 27 – 28, 2018 (Monday & Tuesday) from 8:30 a.m. – 4:30 p.m.*
(*1-hour lunch on your own)
Exam: August 29, 2018 (Wednesday) from 9:00 a.m. – 12:00 p.m.**
Location: Orange County Ag Center: Cooperative Extension Food Lab – 306 Revere Rd. Hillsborough, NC 27278
Different languages and Large Print options available for the Exam.
| | |
| --- | --- |
| Class & Exam: $125** | Exam only: $45** |
An outbreak caused by a foodborne illness can cost your operation about $75,000, with legal fees being the biggest expense.  By serving foods safely, you can avoid loss of business, loss of food, bad publicity, lost wages, etc. Having your Food Protection Manager Certification can help to establish a better "food safety culture" that can prevent these situations.
Certification Classes
NC Safe Plates is a food safety certification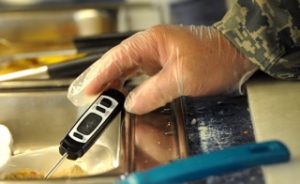 course developed by NC State University. Certification is based on passing an ANSI- approved exam from the National Registry of Food Safety Professionals. Passing this exam satisfies the North Carolina requirement for a certified food protection manager and it is valid for 5 years anywhere in the United States.
**Payments must be received by the due date of August 13th, 2018 in order to participate in the class or take the exam. Class registration fee includes course-book, slides, 3 practice tests and the final exam.
** Exam-only options are available on the date above. Space is limited and priority is given to those taking the course.
Make Checks/Money Orders payable to OC Cooperative Extension
For More Information Contact:
Ivelisse Colón, FCS Agent, N.C. Cooperative Extension, Orange County Center
Phone: 919-245-2055 – Email icolond@ncsu.edu
_________________________________________________________________________
Not able to participate this time? Check upcoming dates in the NC Safe Plates calendar.