Isn't Always the Mayonnaise!
Find this article at:
go.ncsu.edu/readext?535203
Summertime Food Safety
More than any other time during the year, Summer inspires us to participate in outdoor activities, gatherings, and outdoor cooking. It's also a time when the risk of Foodborne Illnesses increases. Why? Bacteria multiply faster in warmer temperatures, and preparing food outdoors makes safe food handling more difficult. Also, more people touch the food and not all those hands are as clean as we want!
Potato Salad and Mayonnaise
"There are lots of other foods at a cookout that can also lead to illnesses." shares Ben Chapman, NC State University Food Safety Researcher, with NC State News. But also when the problem is the potato salad, it's rarely the mayonnaise. It is actually the combination of the foods in the salad, plus poor hygiene and poor temperature control that promotes the growth of Staphylococcus aureus or Clostridium botulinum.
"Commercially produced mayonnaise is acidified to reduce spoilage and kill off human pathogens," says Chapman. So the mayo is low risk by itself.
When mayonnaise is combined with low acid foods such as potatoes, chicken, pasta, and others, it offsets the acidity of the mayo and creates a perfect environment for bacteria to thrive. Add the hot temperature of the day (Food Danger Zone 41ºF – 135ºF) and the lack of proper handwashing, and you have the perfect combination for a day that may end in, "It didn't sit well with me" or worst.
Best Food Safety Practices
Remember these recommendations when enjoying your Summer meals: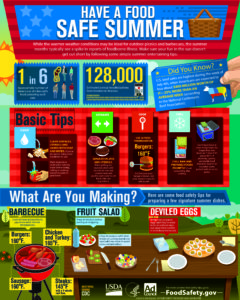 Wash all fresh fruits and vegetables with cool water. You don't need the dirt from those lemons and fruits in your homemade lemonade or infused water.
Keep cool foods cool and warm foods warm! Don't leave your foods in the pans the whole afternoon past serving time. Keep that potato salad in a bed of ice and change it when melted or in a cooler accessible for eating. When finishing eating hot entrees, keep them warm or put them in a cooler and let people warm them up as they serve themselves later in the day.
Keep water and soap available for hand washing. Hand sanitizers don't remove dirt or soil from hands.
If transporting food in your car don't put your cooler in the trunk. Load coolers into the air-conditioned area of your car to help them stay cool.
If you have questions about food safety contact Ivelisse Colón, FCS Extension Agent at 919-245-2055.