Extension & Community Association

Orange County 
Extension & Community Association
is for You!
The North Carolina Extension & Community Association, formerly known as the Extension Homemakers Association, is an adult volunteer organization that works within the communities to empower families and individuals to improve their quality of life.
Our mission is to strengthen families through:
Leadership Development
Community Action
Educational Support through research-based education from North Carolina State University and North Carolina A&T State University
2018 ECA North Central District Day is Here!
It's that time of the year when we gather and share with fellow ECA volunteers. It will take place at the Vance-Granville Community College Civic Center in Henderson, NC. Don't delay and register by Friday, April 6th using one of these options:
Option #1– Send your Club President a check payable to North Central ECA in the amount of $12.00 so she can forward your registration to our Treasurer, Deborah Brooks.
Option #2– Send our Treasurer, Deborah Brooks, a check payable to North Central ECA in the amount of $12.00.
**We will have a 15 passenger van that will take some of the members that may not be able to drive to District Day. Please contact Orange County's FCS Agent, Ivelisse Colón, at 919-245-2055 to reserve your seat or for any questions about the event.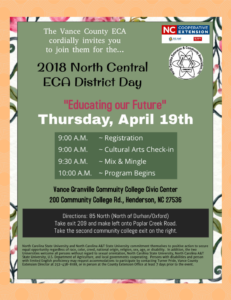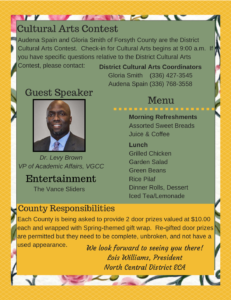 Quick Reminders:
April 1st, 2018 – TarHeel Homemakers eNews submission deadline to

Geri Buschel

at gbushel@ncsu.edu
April 19th, 2018 – North Central District Meeting Vance County Civic Center, 200 Community College Rd, Henderson, NC 27537
June 1st, 2018 – Individual Member Report due to Club President (from Dec. 2017 to May 2018)
June 15th, 2018 – Clubs' Report due to County Coordinator and FCS Agent (from December 2017- May 2018)
Orange County ECA Meetings and Events
Click on the notepad for 2018 list.
Stay in Touch with our Newsletter!
Tar Heel Homemakers E-news February 2018
Tar Heel Homemakers E-news December 2017
Tar Heel Homemakers E-news October 2017
Learn More Using the Resources Below
Information Portals
Was the information on this page helpful?