Why Soil Sample?
Find this article at:
go.ncsu.edu/readext?455785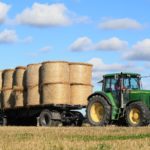 RALEIGH — Spring is the best time to fertilize your shrubs as it promotes optimal growth with healthy foliage and abundant flowers. Well-fertilized shrubs not only improve the aesthetics of the landscape and provide wildlife habitat, but also enhance value and appearance of the property.
The N.C. Department of Agriculture and Consumer Services' Agronomic Services Division encourages home gardeners, community gardeners and landscapers to submit soil samples to optimize growing conditions. From April through mid-November, soil testing is free, and samples are typically turned around within two weeks.
"Fertilizers provide nutrients to help plants grow, but it is important to apply the correct amount and type of fertilizer to promote optimal plant growth," said Jagathi Kamalakanthan, an NCDA&CS soil testing agronomist. "If the soil pH does not match the plant needs, then fertilizing alone may not be helpful."
It is also important to follow the lime recommendation on the soil test report, Kamalakanthan said. For most shrubs, a pH of 6.0 is optimal; however, acid-loving plants such as azaleas, camellias, rhododendron and mountain laurel prefer a pH of 5.0.
While a lack of proper soil nutrients can lead to poor growth, other environmental factors may be an underlying contributor. Those include inadequate sunlight, soil compaction, poor drainage, insects or diseases.
Before deciding fertilizer is the answer, determine why plants are growing poorly, then correct the factors contributing to poor growth, Kamalakanthan said. Fertilization may help, but only after other problems are corrected.
For more information click here.
Repost 21 March 2017 NCDA&CS Agronomics Division